These anti-vandal convex mirrors are manufactured from high quality stainless steel, making them virtually unbreakable and corrosion resistant.
The mirrors are highly polished to ensure an excellent image quality.
The Stainless Steel Subway and Stairwell Mirrors can be used to improve safety and security. Ideal for use in areas where vandalism is likely. Spray paint and graffiti can be easily removed with specialist solvents.
Stainless steel is hygienic and easy to clean, making these mirrors suitable for use in the food manufacturing industry.
The S500-360 mirror is designed for fixing the ceiling and the SUB500-360 is designed to be fixed to a wall.
Typical Environments Include

Subways / Train Stations
Public buildings
Food processing areas
Areas which require wide area surveillance
Carriage & Packing

Our Carriage & Packing charges start from £12.95+VAT. Orders sent to the highlands & islands and bulky items may incur increased charges.
View full details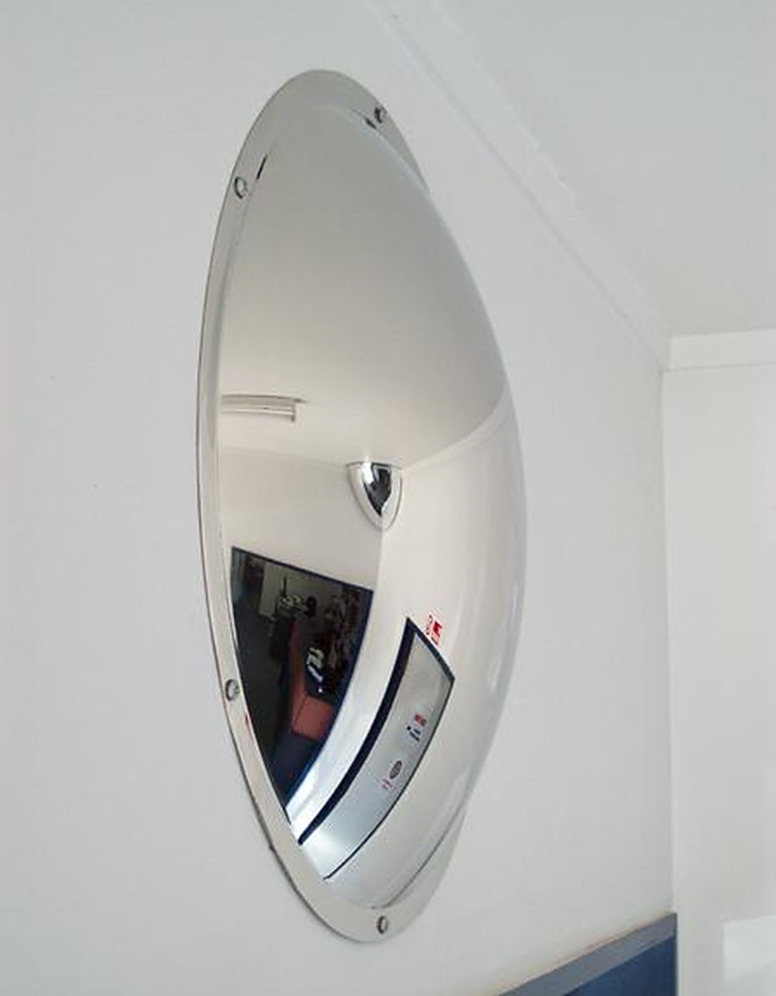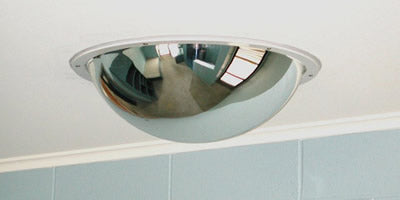 Frequently Asked Questions
Do you offer a credit account?

30 day credit accounts are available for Education, Health, Correction, Care and established companies. Please contact us for more information.
How can I place an order?

Many of our standard products can be purchased through the website. We also accept orders over the phone or by email.

We offer a 30-day credit facility for educational and government departments as well as established companies. Purchase orders should be sent to enquiries@csmirrors.co.uk

Card payments can be accepted over the phone. Alternatively, we can send a Proforma Invoice to allow for payment via BACS or cheque.
What mirror type do I need?

We supply mirrors for a wide range of different applications with strengths ranging up to virtually unbreakable. Our customer service team are happy to offer advice. Please call 01952 605557 for more information.
What is your returns policy?

Please contact 01952 605557 for advice on how to return your goods. A restocking charge may apply depending on the reason for return.

We cannot guarantee to accept returns of bespoke goods, however we will do our best to help.

If you have received damaged or faulty goods, please report the issue within 72 hours of receipt of the delivery.

All our products are sold with a 1-year warranty against faulty workmanship. Please see our Terms and Conditions for more information.
Do you offer quantity discounts?

Quantity discounts are available for orders above 10 units. For specific discounts, please send your quote request to enquiries@csmirrors.co.uk or complete our online quote request form.
When do you deliver?

We deliver Tuesday to Friday, excluding bank holidays. All deliveries will be between 8am-5pm, although specific delivery slots can be booked for a surcharge. Please contact us for more information.